Benefits of Implementing ECM Systems in Business
Modern companies have moved to complete computerization, and no one is surprised that 100% of documents are created electronically. However, to understand and make a conscious choice in electronic document management, one needs to figure out its inner workings.
As a tool for managing a company's information resources, an ECM is used to collect, manage, store and provide access to data to the organization's users. How and what exactly does the system handle? What are the pros and cons of this method? How to implement it? Let's find out.
What Is an ECM Solution?
ECM (Enterprise content management) is a digital content management system. "ECM system" implies a set of methodologies and technologies for collecting, updating, managing, delivering, and coordinating information to all employees within a company.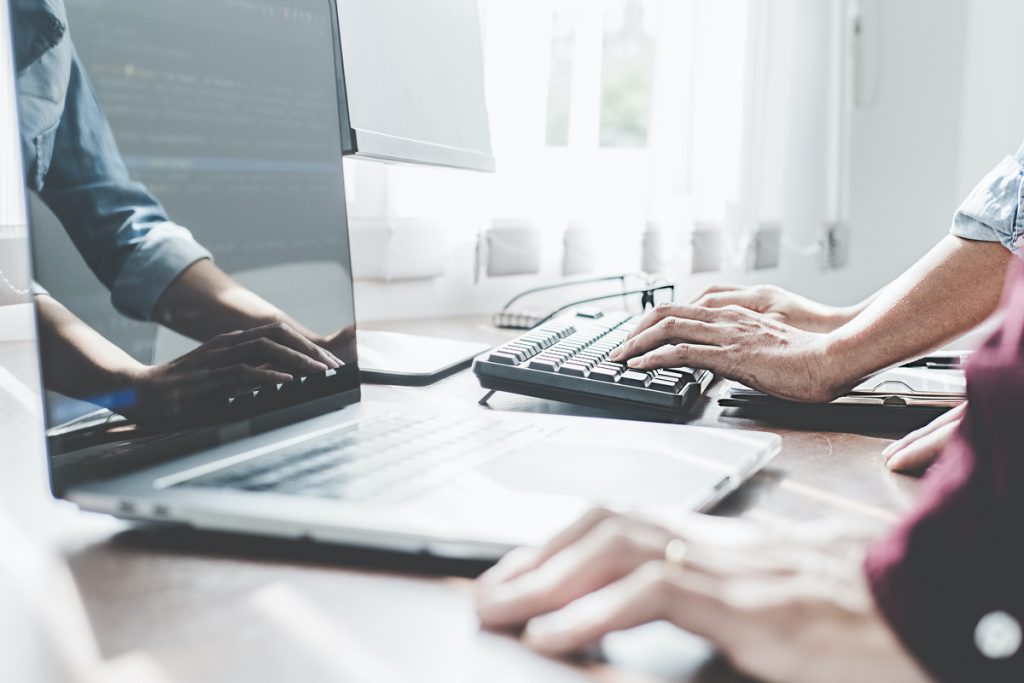 Corporate information usually does not have a clear and unified structure for all organizations. It can be files of different formats, electronic documents with varying sets of fields, and other materials used in the company's work. ECM systems help with managing and making accessible this heterogeneous information.
Another essential aspect of an ECM is the separation of access. Some materials may be confidential or contain commercially sensitive information that should not fall into the wrong hands. The classical way of organizing information storage and access to it does not allow for sufficient delimitation of rights, while the ECM system copes with this task.
The main functions of ECM are:
Data entry (scanning, recognition, entering web forms)
Content storage and backup of the content
Content categorization and markup
Search and indexing
Presenting content to the user
Collaboration on content
Access control
Version control
Content publishing
Business process management
What Information Do ECMs Manage?
Let's start by classifying all the digital information we have today by identifying two main data types. Every day, we deal with different emails, documents, pictures, files, folders, and so on. These are all forms of digital content. However, some data forms are structured, while others do not have this property.
So, data can be:
In the context of the company's life, structured data can be documents, files, and tables of a specific form, various records created and stored in accounting systems. The primary condition for presenting data in a structured layout is the availability of software capable of creating and managing it.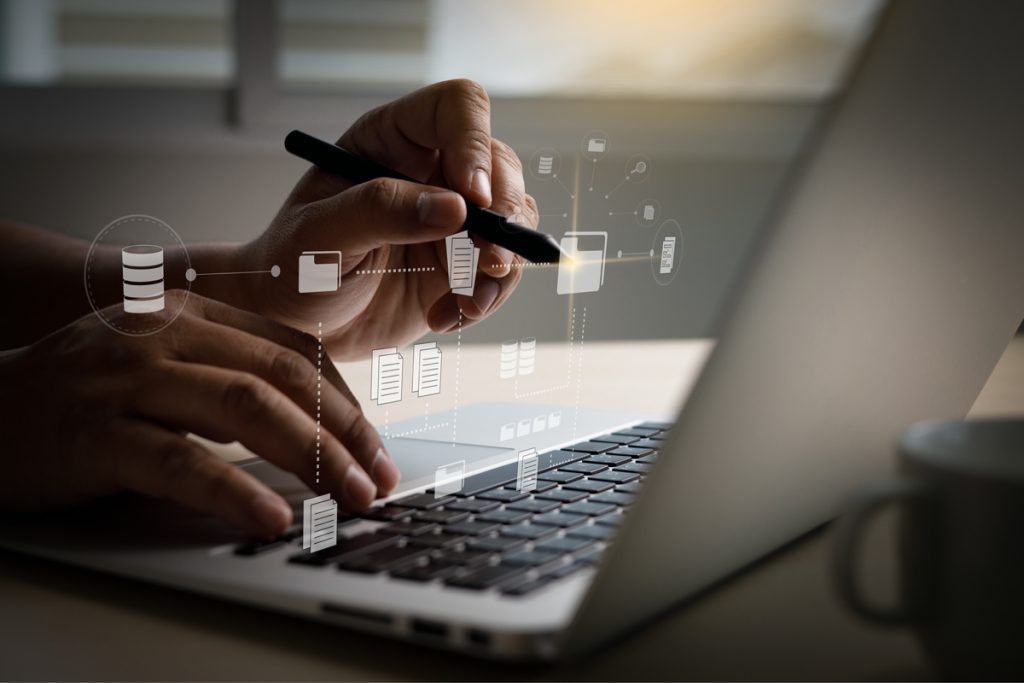 Of course, the most common type of corporate content is structured (contracts, invoices, reports, commercial offers, presentations, spreadsheets). But it doesn't stop there.
Unstructured content is considered to be all information freely stored on a computer and with no definite order. Accounting for such data is hugely problematic because it is not formed into a single database and is challenging to manage. Let's not forget about databases, where a company can store any structured and unstructured content.
Examples of unstructured information are graphics and multimedia files, folders, web pages, application program files, and even the messages that employees exchange via messenger or on a public forum.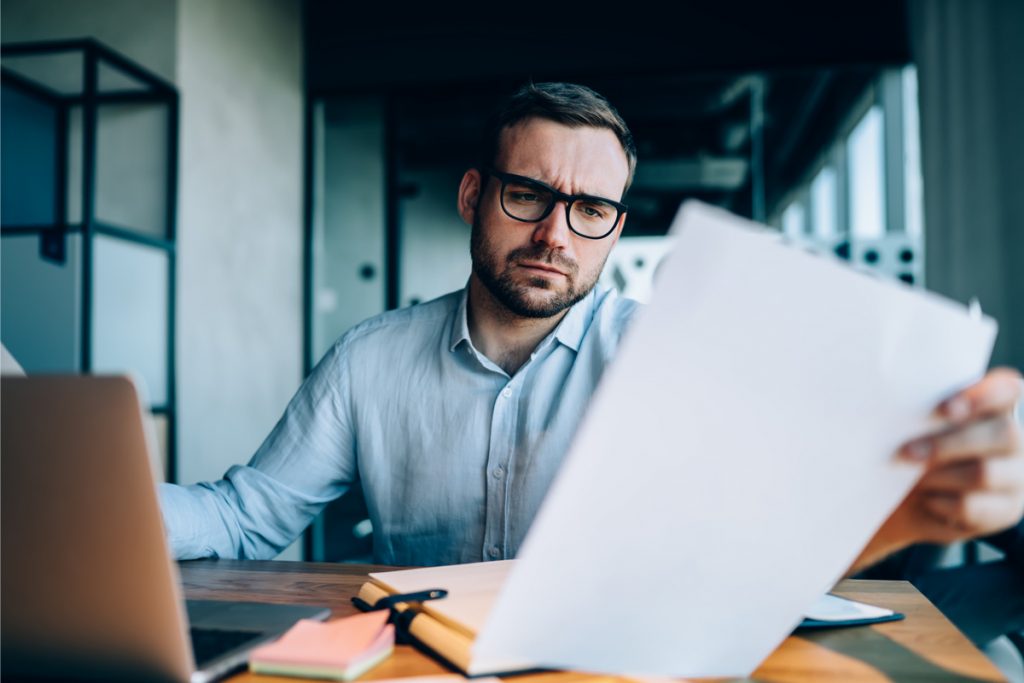 The lion's share of corporate content in the enterprise consists of unstructured data, and ECM class systems are designed to organize the information space of the company, making it possible to keep track of such data and provide collaborative work with them.
Do You Need Enterprise Content Management (ECM)?
It's straightforward to understand whether your company needs an ECM system. Just answer the following questions.
When talking to a business partner, do you immediately find the document you need?
When giving tasks to your employees, can you monitor their current status?
Do you support the fact that quick approval of documents will positively affect your company's reputation?
Is your desk free of paperwork?
Can you control the work of each employee and see the whole stage?
If you answered negatively to at least three questions, then there is no doubt that the implementation of electronic document management and digital transformation will significantly help you.
Reasons for implementing Enterprise Content Management (ECM)?
Managing your company's content shouldn't be too challenging, since there are great tools out there that you can use. For example, enterprise content management software has been around for a while and has always been quite useful. Even though it's true that companies have been able to get a lot of great use out of this software in the past, the truth is that these programs are more useful now than ever.
If you still haven't implemented enterprise content management software within your business and if you're wondering why it's so important for handling company content nowadays, consider the reasons listed here.
1. Your Business Probably Puts Out More Content Than Ever
Nowadays, it is easier and more common than ever to share a lot of content for your business. You might have a lot of blog posts, videos, pictures, and more that you share online and in other ways for your business. Because of all of the different types of content that you might work with, and because you might share that content with more frequency, you might find that using an enterprise content management software program is now necessary for your business, even if you didn't really find it to be necessary in the past.
2. Your Office Might Be Paperless
Nowadays, many offices are going paperless, or they are at least taking whatever steps they can to minimize the amount of paper that is used throughout the office. If this is the case for your office, then you probably realize that it's challenging for you to keep track of content management without a software program. Luckily, a good enterprise content management software program will make it easy for you to keep track of your company's content, all without having to write things down or print things out. You will probably find that this will work a whole lot better for your paperless office, and it's better for the environment, too.
3. You and Your Employees Might Work from Home
Many companies are shifting and allowing their employees to work from home sometimes or on a full-time basis. If this is the case for your business, then you have to find ways to make working from home easy for yourself and all of your employees. With the right enterprise content management system, such as one that is based in the cloud, you can make it easier for you and your employees to take your work home with you.
Running a business of your own is definitely something to be proud of. It takes a lot of discipline and resolve to juggle all of the moving pieces that have to be coordinated in order to operate a successful company. If you've been handling all of the many components manually, you may be feeling a little overwhelmed. You're looking for a way to deal with spreadsheets and documents so that you can access them quickly, instead of rummaging through files and boxes to get what you need. Take a look at how enterprise content management (ECM) software can help lighten your load and streamline your business processes.
9 Benefits of Enterprise Content Management
If you're still not sure whether you need an ECM system or not, let's talk about the benefits of implementing such a solution.
Transparency of Business Processes
Thanks to the system, you can monitor all stages of the organization's activities. Business processes become transparent for management and are easier to control.
Flexibility in the Automation Process
The natural advantage of the ECM system is the processing and storage of all information in a unified form. The system will systemize all information appearing in both structured process steps and unstructured process steps. Thus, you can freely combine different "styles" of working with data within the same business process. This gives flexibility in the automation process and coverage of information in terms of knowledge extraction in one system.
Higher Executive Discipline
According to statistics, responsible employees do not perform 20% of received tasks. With complete control of all stages of work, an ECM system directly affects the executive discipline of employees.
Lower Labor Costs for Managers and Employees
The system reduces the time spent by employees on almost all routine operations with documents: creating, searching, approving. Document flow is accelerated, all processes in the organization go faster.
Ability to Work Remotely With Documents
Content management tools often include features that allow remote employees to access content from mobile devices. For many companies, this is becoming increasingly important. By combining content management with other data, employees can use their smartphones or tablets to enter new information using information already stored in an ECM.
Confidentiality of Information Is Ensured
A data leak can cause millions of dollars in losses for an organization. Unlike the traditional paper-based workflow, an ECM system provides access to documents strictly according to the assigned user rights. All actions over the document (reading, changing, signing) are logged.
Easy to Communicate and Train Newcomers
Thanks to the notification system based on the ECM system, company management can quickly communicate new work rules to all employees. Training time for new employees is reduced due to quick search of necessary information (regulations, instructions, etc.). Passing routes and document templates can be easily changed, after which employees automatically start working in a new way.
Development of Corporate Culture
Implementation of the ECM system establishes and maintains internal company policy, leading to team building. At the same time, the responsibility of each employee for the qualitative performance of the given task increases.
More Competitive Advantages
An ECM system directly influences the competitive advantages of a company in comparison with other market players. The velocity and quality of service for clients increases owing to quick information flows and accurate control of all processes. Even the most extensive company becomes more mobile and less dependent on some "irreplaceable" employees.
3 Benefits of Enterprise Content Management for Small Business
If your business is growing and you are handling more and more documents or spreadsheets on a daily basis, you might be looking for a way to keep everything better organized. Today, more and more small businesses like yours are turning to enterprise content management software to meet their needs. ECM software can provide your company with a variety of benefits that will immediately make a positive impact on your business and bottom line. Here's why you should reach out to a provider of ECM software today.
A Centralized System Lets Employees Access Important Documents or Content From Anywhere
ECM software takes all of your important data or content and uploads it to a server in the cloud. This server can be as private as you need it to be, but the idea is that the server will be accessible by anyone you give access to. Once an employee has access, he or she will be able to connect and download any of the data or content that they need without being tied to a physical location. In other words, employees can access the server and the content it holds while in the office on a desktop, while working from home on a laptop or while out and about with their mobile phone. The ability to access your content and data from anywhere means employees will be able to work more efficiently and make better use of their time.
ECM Software Makes Collaboration Between Team Members Much Easier
Once this centralized system is set up as was just described, ECM software will also make it easier for people to collaborate no matter where they are. You can have an employee working from home make a change to a document, and the next time the rest of the team refreshes that particular document on the server, they will immediately see the changes that have been made. As more people continue to work from home during the coronavirus pandemic, the ability to collaborate from multiple locations has never been more important, and ECM software can give you the kind of collaboration that you need.
Eliminate or Reduce Your Use of Paper Hard Copies
Once all of your data or content is uploaded to a server, you may no longer have a need to repeatedly print out hard copies if your employees can quickly just log into the system to double-check a statistic or piece of data. The elimination of paper hard copies creates less clutter, offers more convenience and is also better for the environment.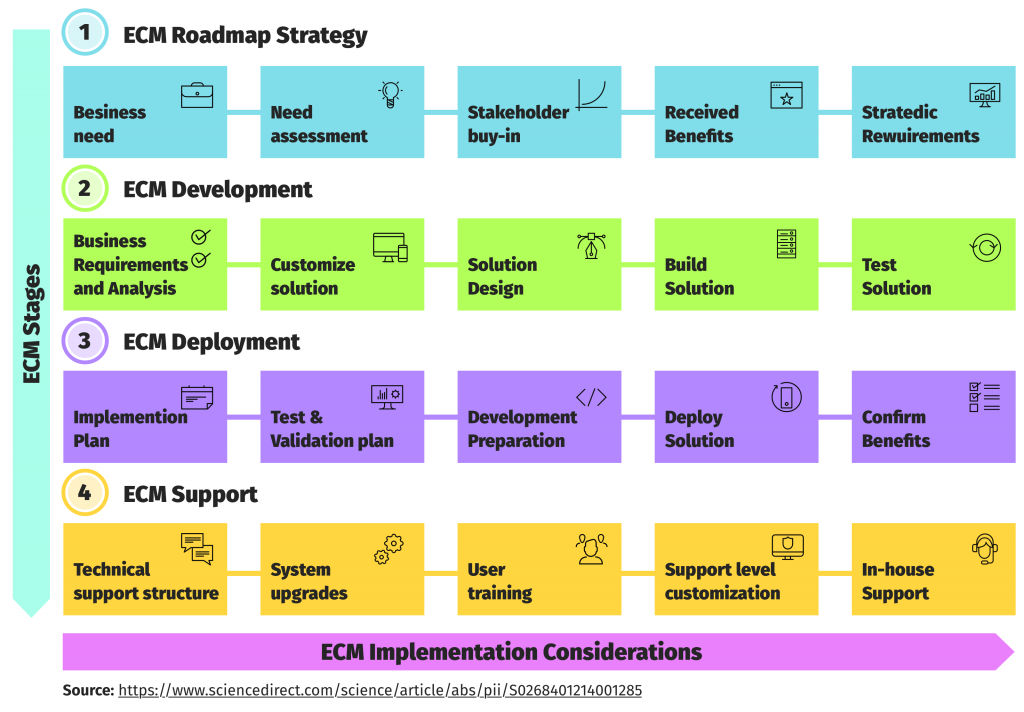 5 Steps to Successful ECM Technology Implementation
So, you have decided that you need an ECM system. It's just a matter of putting it in place. You can do this in just five steps – but it is better to do it under the supervision of a specialist or in tandem with one.
Step One: Organizing and Training the Team
The first step begins with the formation of the team. It may consist of permanent participants – business analysts, consultants, project managers, and their partially involved developers, teachers, and project supervisors.
A specialist or manager must introduce the team to the system, explain the interaction at the primary level, and answer all the questions. Questions can be different about the implementation project schedule, possible risks, the chosen ECM system, and so on.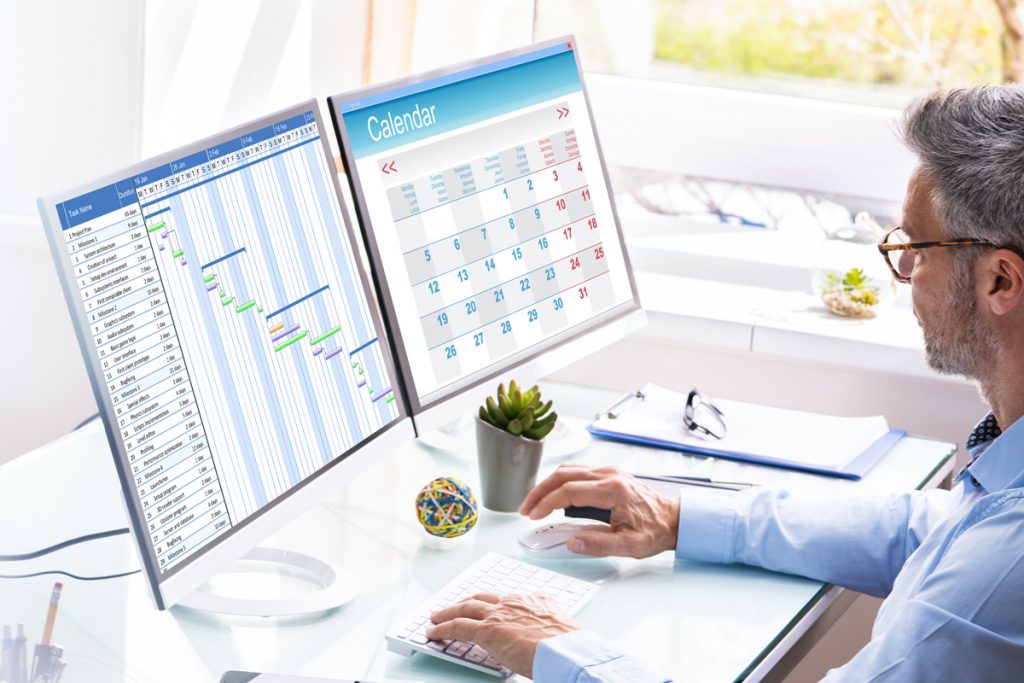 Step Two: System Design
This step is the largest and most important because it is the one where the functionality of an adapted ECM system is designed. An ECM system often becomes the lifeblood of an enterprise and touches many business processes. Therefore, it is essential to make the proper settings for the business processes, which happens at this stage. This stage can be divided into three sub-stages – research, analysis, and design.
Step Three: Building the System
Based on the optimization decisions, a personal ECM system is created. Designing is painstaking work to describe all process details and technical details.
The result of the design is usually reflected in the form of a scheme with a description. Individual actions and procedures of the ECM system will be thoroughly described. This will achieve accuracy and unambiguity of the essence of the project solution, which a specialist will then implement.
Specialists who are already familiar with the functionality of ECM systems can evaluate the prepared solution for usability and applicability to existing business processes in the organization.
Step Four: Installing, Configuring, and Adapting the System
Technical specialists install the hardware, configure it, install the ECM system, set up its connection to other systems (if any), backup databases, and perform many other settings, ensuring smooth and rational operation of the equipment and the software installed on it.
Once the solution is ready, it needs to be tested. When the solution is tested and corrected, all the comments received during testing can be included in the work of all users. Of course, it is necessary to train all users and advise on working with the ECM system, as well as to record the comments and suggestions.
Step Five: Commercial Operation and Continuous Improvements
After the solution is tested and critical remarks are corrected, the system is put into operation. The development and improvement can also include the automation of other processes. Once you know the system's capabilities in practice, you can think of more and more new tasks for it.
ECM Software Increases Accessibility
In a world where so many people now work from home, it is vital that you have a remote-friendly system in place. The Internet definitely makes this much easier to achieve because no matter where you or your employees happen to be, you can typically link up in a virtual space and collaborate with each other in a matter of minutes.
However, getting your hands on important documents isn't always as easy. What if you happen to speak with a client who passes along sensitive information that must be sent to a colleague right away? Transmitting documents by email isn't always fail-proof because if the data falls into the wrong hands it could result in a security breach which ruins the company reputation that you have likely worked very hard to build.
Installing and working with ECM software is an excellent way to get around these types of dilemmas. You can upload encrypted forms to the software so that even a co-worker on the other side of the country can use a password to access the forms, fill them out and get the documents back very quickly.
Time-Stamps Keep You Organized
When you have a ton of responsibilities on your plate it's easy to get sidetracked. There could be a pressing matter that needs to be handled right away. If you don't have a good tracking system the data could get lost in the fray.
ECM software really helps to keep you on your toes. Each document is time-stamped and you can even flag certain pieces with a deadline that should let you know when the information needs to be addressed.
Purchasing ECM software can potentially revolutionize the way you run your business. Get your software immediately and put it to work for you.
No matter what type of company you have, there are probably a lot of important documents you need to organize and manage. Keeping up with them can be an easier process if you utilize ECM software (enterprise content management), which comes with many advantages today.
1. Easier Access to Particular Documents
When you have just a stack of papers all over desks, finding key documents can be rather difficult and time-consuming. You can alleviate this issue by incorporating ECM into your operations. It lets you keep track of all of your documents under one software program.
This program will create identification tags for each document, making them much easier to search for. All you and your staff have to do is enter in certain keywords and then the right documents will show up in your search. You can thus save a lot of time and energy searching for particular paperwork.
2. Save on Costs by Going Digital
A lot of costs are involved in printing out a bunch of forms and managing them. You have to pay for things like paper, ink, and printing equipment. You can avoid these costs altogether by taking advantage of ECM.
When you do, everything can be transitioned into a digital format. There no longer will be a need to have physical documents. The added savings you'll reap can then be put towards other important aspects of your business, whether it's marketing or hiring additional employees.
3. Improve Customer Service
Your company's customers are the cogs that keep your operations going strong. Thus, you need to constantly provide them with great customer service. You can do this effectively by taking advantage of ECM. It allows you to be much more efficient regarding customer information.
All your employees have to do is use a software program to pull up a customer's profile. They'll then have direct access to important information that can help them better assist the customer. Your staff can pull up this information quickly too so that your customers are not left waiting on the other end of the line for too long. The improved customer service that your company provides can pay off in dividends.
There are a lot of challenges in managing your company's documents. Instead of working harder, you can work a lot smarter by using ECM. It's one of the more important resources that your company could rely on as it delivers all kinds of benefits, from cutting document costs to saving time going through papers by hand. Learn more by contacting ECM software providers.
The Full and Comprehensive Guide for Implementing an ECM System